February and March are the months I turn to the not-so-seasonal desserts for inspiration. By the time March rolls around, we've surely baked, blended and snacked our way through any frozen berries we had saved from the previous summer. One thing I like to make as an afternoon treat is banana cake. I usually make it once a week, and it lasts only a couple of days. Sometimes with a cream cheese frosting, sometimes without. The few weeks I've been playing around with gluten-free grains, particularly oat flour, brown rice flour and buckwheat. I do love buckwheat, but for this gluten free banana cake I decided on a blend of rice flour and a little tapioca starch. If you've been looking for the perfect gluten free banana cake, you'll probably love this recipe. It's simple, delicious, and fairly quick to make!
I have found that banana cake and banana bread are often interchangeable- usually a quick bread and made in a loaf pan. I thought it would be fun to make this gluten free banana cake more like a traditional layer cake. It's a little more special, and it's also quite fun to assemble! In between the layers, I used a chocolate hazelnut spread (this one from Artisana), but you can use cream cheese frosting if you prefer. If you have a dairy allergy, or prefer not to use cream cheese frosting, this banana cake is nice with just the chocolate/hazelnut spread in between the layers and a light dusting of confectioners' sugar on top!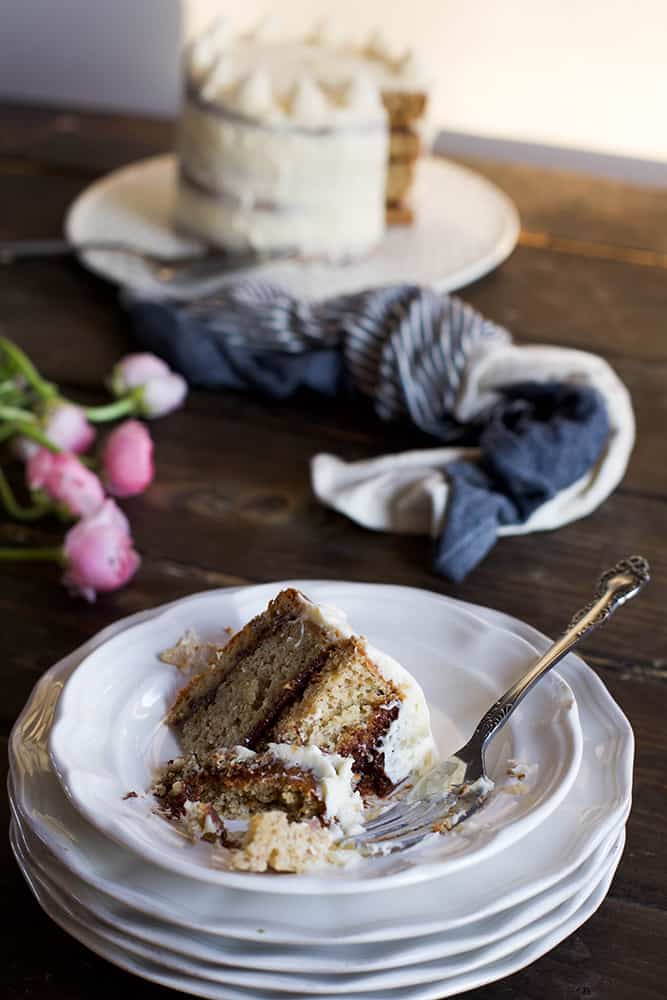 Gluten Free Banana Cake Ingredients
If you are gluten-free you most likely have these ingredients at home. If not, they are easy enough to find at your local grocery store or you can order them.

Brown Rice Flour– Brown rice flour has been my trusted baking flour since cutting out gluten. It definitely has a more wholesome flavor than the all-purpose gluten flour that I usually bake with, and pairs great with a sweet frosting.

Tapioca Starch– Tapioca starch comes from cassava root, which is a root vegetable similar to a potato or sweet potato. The starch is used in things your probably familiar with-tapioca pudding, or the bubbles in bubble tea! It is commonly used in gluten-free products and gives a texture that is a little bit chewy, resembling gluten.

Baking Powder– This helps the batter to rise.

Baking Soda– Again, helps the batter to rise, preventing a dense cake.

Bananas– In a gluten free banana cake, this is a necessity. I used 3-4 ripe bananas.

Eggs– Eggs give the cake a good structure.

Sugar– The first time I made this I used only granulated sugar, and it was delicious, but you'll notice that I now also include brown sugar. The combination just works. (Of course, if you don't have brown sugar on hand you can substitute the brown for additional granulated sugar)

Brown Sugar– Dark or light, but I like dark.

Vanilla– Just a touch of vanilla extra, for flavor. Also, used in the cream cheese frosting!

Salt– Just a pinch, to prevent the cake from being too bland.
Butter– One stick, for the cream cheese frosting (optional)

Cream Cheese– Again, for the cream cheese frosting. One package will do (optional)

Confectioners' Sugar– For the cream cheese frosting, but if you choose to not do frosting, it's nice to serve a dusting of sugar on top!

Chocolate Hazelnut Spread– I used a chocolate hazelnut spread for in between the layers of cake. You can also use cream cheese frosting instead, but I think chocolate and banana and hazelnut go so well together! I prefer to use this brand.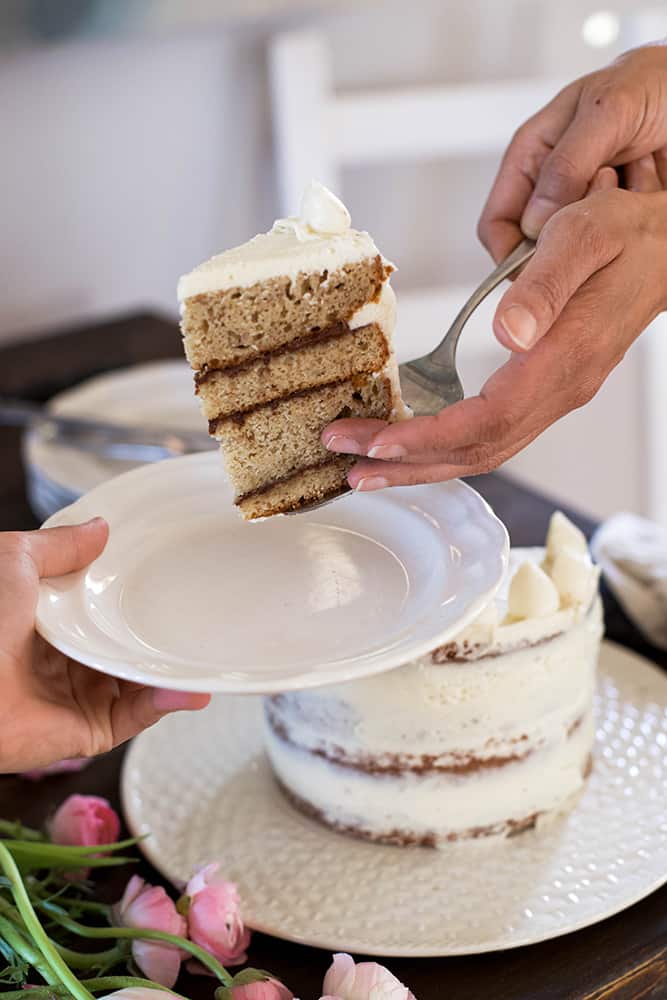 Gluten Free Banana Cake
This banana cake is sweet and delicious! I like to serve it as a layered cake with chocolate hazelnut spread between the layers, and cream cheese frosting on top!
Ingredients
For the Banana Cake
3-4

Ripe bananas

1/4

Cup

Sour cream

2

eggs

1/2

Cup

Granulated sugar

1/4

Cup

Dark brown sugar

1

Tsp

Vanilla

1 1/2

Cups

Brown rice flour

1/4

Cup

Tapioca starch

2

Tsp

Baking powder

1/2

Tso

Baking soda
Cream Cheese Frosting
8

oz

Cream cheese

4

oz

Butter

2

Cups

Confectioners' Sugar

2

Tsp

Vanilla
Additional
Chocolate Hazelnut Spread for in between layers (optional)
Instructions
Make the cake
Preheat the oven to 350˚F. Brush two 6" pans lightly with oil, and then dust gently with brown rice flour. Line the bottoms with parchment just in case.

In a small mixing bowl, combine the dry ingredients: brown rice flour, tapioca starch, baking soda, baking powder and salt. Set aside.

In a larger mixing bowl, mash the bananas until a puree forms.

Mix in the sour cream, both sugars, eggs, and vanilla to the banana mixture one at a time, and mixing between each addition. Be sure that everything thoroughly incorporates.

Fold in the mixture dry ingredients, and fold/mix gently until there are no more dry spots.

Divide the batter between two pans and bake about 50-60 minutes, or until a toothpick comes out clean. Set aside and allow the cakes to cool, about 15-20 minutes and then remove them from the pans. Allow them continue cooling on a baking rack until room temperature before frosting.
Make the cream cheese frosting
In a stand mixer with a whisk attachment or large mixing bowl using an electric mixer, combine the softened butter, cream cheese, sugar and vanilla. Whip until light and fluffy, about 7-8 minutes.
Assemble the cake
Slice each cake the horizontal way, keeping them as even in width as you can, so you have four cake rounds/layers instead of two. To create a layer cake, we'll frost the top of one cake and then stack another layer on top.

Using a chocolate hazelnut spread, or cream cheese frosting if you prefer, cover the entire top of one layer and then stack another layer of cake on top. Continue this until you've used all four layers of cake. If you're using chocolate hazelnut spread, do not cover the top of the final layer with it, as it will have cream cheese frosting.

Spread the top layer of cake and the sides with cream cheese frosting. You can use however much you prefer- I chose to make mine "naked" style, so more frosting on top, and very thin layer of frosting on the sides.

Using a piping bag and a circular, scoop any remaining cream cheese frosting into the bag, and round tip (or a ziploc bag with a small hole cut in one corner), squeeze and decorate small droplets of frosting along the top outer edge of the cake.

Enjoy! For storing, keep it in the fridge overnight. I feel it's best served at room temp, so take it out of the fridge a few hours before serving to let it warm up. Keep for about 5 days or so.