Chocolate Chip Cookie Variations
I don't know anyone that doesn't like chocolate chip cookies. Of course, everyone has their preferences. There are hundreds of variations of the classic chocolate chip cookie: with nuts, without nuts, tollhouse, brown butter, sea salt, gluten-free, etc. For the die-hards and obsessive perfectionists there is also the consideration of temperature, size, butter quality, and 1 cup vs. 1 1/4 cup of flour. Being somewhat neurotic, I am the latter, though it works out seeing as I have four children at home that have no qualms about cookie variations. Chocolate chip cookies are chocolate chip cookies, and even if they're not that good they're still pretty good. Oatmeal chocolate chip cookies have always been my personal preference. Something about the combination of oats, brown sugar, and chocolate makes for a wonderful combination. As a cook and perfectionist, I am always tweaking, analyzing and leaving room for improvement. Perfectionism is a harsh word, and with food it is always objective, but I aim for perfect and sometimes I get close. These sea salt oatmeal chocolate chip cookies are right about there. Last winter I baked many variations of chocolate chip cookies, experimenting with different ratios of brown sugar to white sugar, oats, different percentages in chocolate, and other things. These sea salt oatmeal chocolate chip cookies became the ones that were the most asked for in our house. While I do like to switch it up sometimes, these have become the go-to chocolate chip cookie recipe.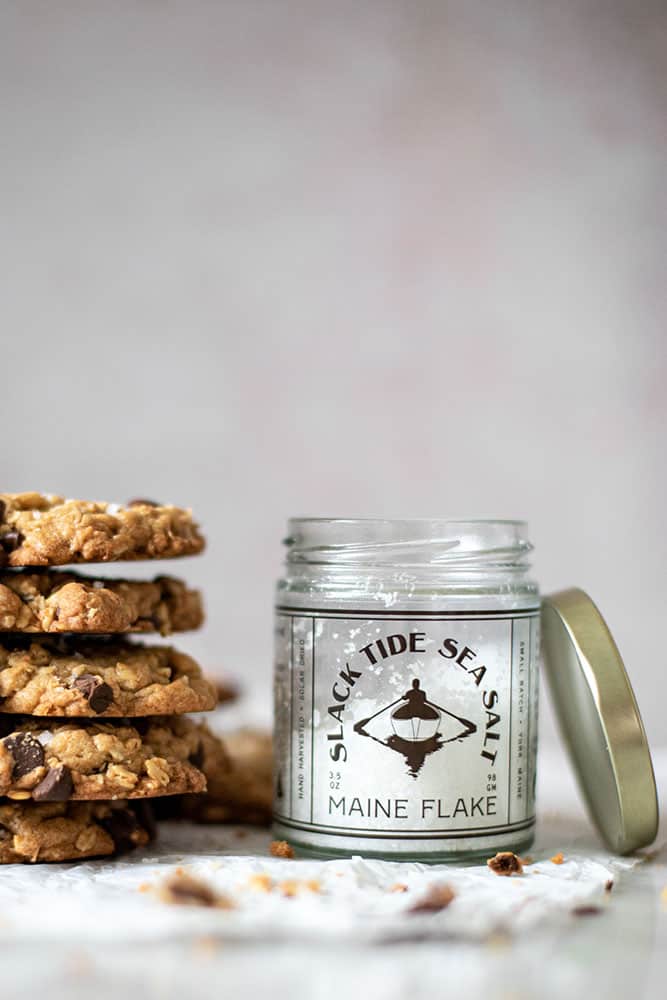 Slack Tide Sea Salt: Salt from the coast of Maine
How often do you use sea salt in your kitchen? I started using sea salt several years ago, after a friend brought me a box as a gift. I used to use Maldon sea salt, which was introduced to me by a friend a few years ago, and is harvested in England. This past spring, I came across Slack Tide sea salt via their Instagram and I'm so glad that I did! I am a firm believer in shopping locally whenever you can, and was instantly on board with the thought of cooking with salt straight from the coast of Maine. If you've ever spent any time on the coast of Maine you, too, probably understand the appeal. If you haven't used sea salt too much, it can be used in place of regular salt when cooking, though it is usually more potent than kosher salt. It also comes in larger crystals or flakes, too. I love using sea salt as a finishing salt- so topping a salad or roasted veggies with it. Roman is being a master at fried haddock and loves sprinkling Slack Tide sea salt on the fish just before serving. It's also great in any kind of sweets- this past summer the kids and I made a vanilla saltwater taffy with flecks of sea salt in it. Today I'm sharing a sea salt oatmeal chocolate chip cookie recipe, and I'm working on a sea salted caramel sauce to gift people for Christmas this year. If you aren't familiar with Slack Tide– please check them out! They harvest the salt water in the deep areas off the Maine coast and then the salt is solar dried. It is a female owned business and they are absolutely wonderful!
Sea Salt Oatmeal Chocolate Chip Cookies
These cookies are quite simple to make. I use melted butter because I usually want to make cookies on a whim and don't plan ahead enough to let the butter sit out and soften for a few hours. Melting the butter takes just a few minutes, so it's easy for me suddenly be able to make cookies when I find that I have a free 30 minute window of time. Melting the butter in chocolate chip cookies also creates crispier edges and will make for slightly chewier cookies. Again, slight personal preferences in cookie making!
Step One Preheat the oven to 350˚F and prepare two cookie sheets or baking sheets with parchment paper.
Step Two Place the butter in a small pot and set the pot to low heat. Allow the butter to fully melt, and set aside to cool slightly.
Step Three In a medium sized bowl, combine the flour, salt and baking soda.
Step Four In a large bowl combine the butter, dark brown and granulated sugar, eggs, and vanilla. Whisk well until everything is fully combined.
Step Five Pour the flour, baking soda and salt mixture into the wet ingredients and mix until there are no dry spots left.
Step Six Mix in the oats and chocolate chips until they are evenly distributed throughout the cookie dough.
Step Seven Using a cookie scoop or two spoons, scoop small spoonfuls of cookie dough onto your cookie sheets- leaving about 2″ of space between each cookie. You should be able to fit about 9-12 cookies per pan.

Step Eight Sprinkle each cookie with a pinch of sea salt.

Step Nine Bake the cookies for 12 minutes, turning the pan after 6 minutes. They will look soft in the middle and slightly browned around the edges. Allow to cool for 10 minutes before removing from the pan.
A bit more about me…
Hello! My name is Amber and I'm a food photographer and recipe developer in Maine. I also work throughout the New England area, capturing various food stories, products and recipes. Thanks so much for visiting! I started my food blog, Downeats, because I love to inspire others to cook and enjoy delicious, healthy meals with their loved ones. I was raised and currently live in Maine with my (gorgeous, amazing, hardworking) high school sweetheart and our (hilarious, talented and wonderful) children. I believe in living slow and enjoying life and I love capturing shared moments. You can read more about me here. If you are looking for a food photographer or recipe developer please contact me here.