Oat flour pancakes have become quite commonplace in our house since I've integrated a lot more non-gluten grains into our household. Mealtimes are quite a ritual in our house, and even though breakfast isn't as big of an affair, we still usually reserve 1-2 mornings a week to have a family breakfast together. Pancakes, crepes, or waffles have always been in my repertoire. These oat flour pancakes are a newer recipe of mine, but becoming a fast favorite of the kids.
I've made these oat flour pancakes several different times, the first few times being with a slight variation. Now I've finally settled on the recipe and they pretty much always coming out delicious. The kids absolutely love them (though, let's be honest, the kids will love anything that's covered in maple syrup!). Personally, I like to serve these with fresh berries, whipped cream and maple syrup.
Oat Flour Pancakes Ingredients
Oat Flour– If you've never used oat flour, it does tend to absorb liquid a bit more than wheat flour does. This holds true for most gluten-free flours that I've used thus far. The texture of these are also a little bit more grainy than wheat pancakes, but they also have a delicious, wholesome, oat like flavor. I almost always keep this brand handy because it's certified gluten free (it's also great for pie crust, and gluten free oatmeal cookies). I like to use this brand of oat flour, because it's specifically gluten free and I do feel that Bob's Red Mill are tried and true products.

Eggs– Because oat flour is a bit heavier than wheat flour, oat flour pancakes can end up being a little bit dense, which isn't ideal. To combat that, I separate the eggs, adding the yolks directly to the pancake batter and then whipping the egg whites to stiff peaks and folding them in at the end. It is one extra step, but it's so worth it.

Milk– I like to use whole, local milk, but you can absolutely use oat milk or almond milk for these pancakes, too!

Sugar– Just a little bit, and it's optional.

Salt– A pinch, for flavor.

Vanilla– Vanilla complements the oat flour flavor really nicely, and just works in pancakes.

Toppings– You can top these pancakes with anything you'd like- fresh fruit, whipped cream, maple syrup, peanut butter, honey- it's up to you!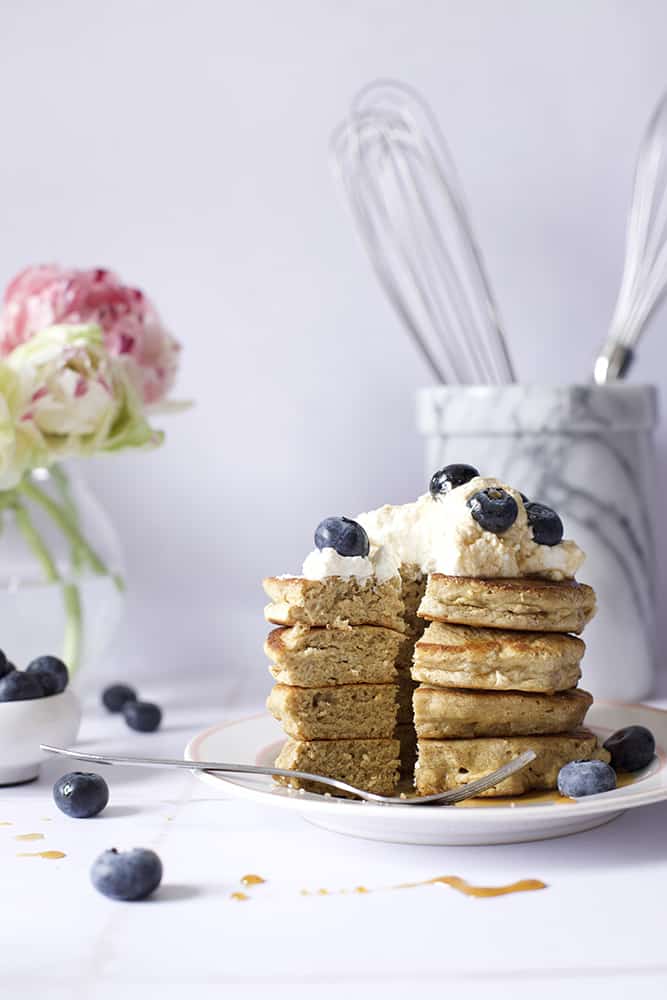 Oat Flour Pancakes
These oat flour pancakes are gluten free, and absolutely delicious!
Ingredients
2

Cups

Gluten Free Oat Flour

1

Cup

Milk

(Feel free to use your choice of milk)

3

Eggs, Separated

1

Tsp

Vanilla

1

Tbsp

Sugar

2

Tsp

Baking Powder

1/2

Tsp

Baking Soda

1/2

Tsp

Salt

Butter, non-dairy butter or vegetable oil (for cooking)
Instructions
In a large mixing bowl combine the oat flour, baking powder, baking soda, salt and sugar and whisk until everything is thoroughly combined.

Using a second mixing bowl, separate the eggs- place the egg yolks into the bowl with the dry ingredients, and the whites into the additional bowl.

Mix the eggs yolks into the dry ingredients until they clump together, then whisk in the milk in 3-4 separate additions, mixing well between each addition. Adding the milk a little at a time, instead of all at once, helps prevent lumps of flour in your batter.

Using a handheld or stand mixer, whip the egg whites until stiff peaks form, about 3-4 minutes on high speed.

Gently fold the egg whites into the batter, taking care to not over mix. Once the egg whites are fully incorporated into the batter, set a large pan or skillet over medium low heat.

Once the pan has heated, add a pat of butter (non-dairy if you prefer) or splash of olive oil to the pan to prevent the pancakes from sticking. Let the butter melt and warm up for a minute.

Add a large spoonful of batter to the pan and let it spread out to form a pancake. The batter will be thick and move quite slowly. Repeat this step with however many pancakes will fit in your pan (generally I can cook 3-4 at a time, but it depends on the size of your pan, and how large you make your pancakes.)

Allow the pancakes to cook for about 3 or so minutes, until golden brown on the bottom. The edges and top looking a bit dry are a good indicator it's time to flip them!

Flip the pancakes and allow them to cook on the opposite side, another 3 or so minutes.

Serve warm with maple syrup, whipped cream, fresh fruit and your favorite toppings!