Is there anyone that doesn't love the warm smell of banana bread filling the house on a cold winter day? Like most people, I tend to bake a lot more in the winter months and banana bread has become a part of my regular repertoire. I love to do variations of it: chocolate chip banana bread, spiced banana bread, brown sugar swirl, etc. If you're interested in a more dessert type banana bread, check out my gluten free banana cake recipe here. It's made with cream cheese frosting and hazelnut spread! Since I've become a lot more comfortable with gluten free baking, I also have tried a variety of different flours. I've found that the best gluten free banana bread is made with some blend of almond flour. I often blend it with brown rice flour or sorghum, but I've most recently started using buckwheat flour, which is really delicious. It adds a hearty, wholesome taste but isn't so overpowering with the almond flour. It's so yummy and satisfying on a cold winter morning. If I plan ahead, sometimes I will make two loaves and save one for the morning. A thick slice of warmed banana bread with a small pat of salted butter is such a treat in the morning (and goes so well with coffee!) This buckwheat flour banana bread has such a unique flavor! Give it a try.
If you aren't familiar with buckwheat flour: Buckwheat is naturally gluten free and is not actually wheat, or even a grain. The flour is made from the seed of a flowering plant. The hulled seeds (buckwheat groats) can be cooked and eaten like oatmeal or in porridge, or can be ground into flour and used for baking. There are two different types of buckwheat flours you can bake with: dark and light. Dark is most commonly found and is made with unhulled buckwheat. The light buckwheat flour is made with hulled buckwheat and is more mild in flavor. Overall buckwheat has an earthy taste. I usually use light buckwheat flour, only because that is what I can get from farms local to me, and I try to buy locally whenever I can. For this buckwheat flour banana bread recipe (And for most recipes that include buckwheat) you can use whichever buckwheat flour you have on hand.
Buckwheat Flour Banana Bread Ingredients
This buckwheat flour banana bread is naturally gluten free and is sweet, wholesome and delicious. This simple recipe is one that my kids love to help with- measuring, mixing, cracking eggs, etc. My older two could probably make this without assistance! The ingredients are fairly standard:
Wet Ingredients
Ripe bananas
Sugar
Vanilla
Eggs
Olive Oil or another vegetable oil

Dry Ingredients
Buckwheat flour (light or dark is fine)
Almond Flour (I use Bobs Red Mill)
Baking Soda
Salt
Ground cinnamon
Ground cardamom
Making this gluten free banana bread is pretty much like making any other type of banana bread or quick bread. There are no additional starches or gums added to this recipe. Simply mix the wet ingredients and dry ingredients separately. Then you'll combine them by gently mixing the dry ingredients into the wet. After about an hour or so of baking, it's ready!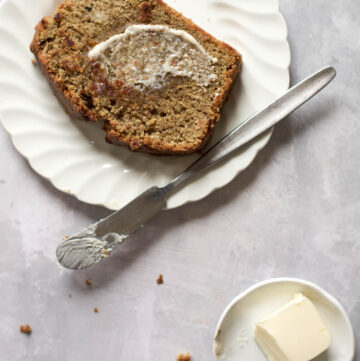 Buckwheat flour banana bread
This buckwheat flour banana bread is naturally gluten free and is sweet, wholesome and delicious. This recipe is simple and perfect for littler ones that love to help out in the kitchen!
Ingredients
Dry Ingredients
1 1/2

Cups

Almond flour

1/2

Cup

Buckwheat flour

1/2

Tsp

Baking soda

1

Tsp

Ground cinnamon

1/2

Tsp

Cardamom

1/2

Tsp

Salt
Wet Ingredients
3

Ripe bananas

1/2

Cup

Olive oil, or another mild flavor vegetable oil

2

Eggs

1

Tsp

Vanilla

3/4

Cup

Dark brown sugar
Instructions
Preheat the oven to 350˚F and grease and lightly flour a 9x5" loaf pan.

In a large bowl, use a fork to mash the bananas until they are in a rough puree.

Add the remaining wet ingredients to banana puree: olive oil, eggs, sugar, and vanilla, and mix well. Set aside for a few minutes.

In another smaller bowl, combine the dry ingredients: almond flour, buckwheat flour, baking soda, salt and spices. Whisk until everything is mixed together. Please note that almond flour does tend to clump together. To avoid lumps of almond flour in the final batter, I use my fingers to sift through the dry ingredients and break up and lumps. Alternatively, you can use a sifter when measuring the almond flour.

Pour the dry ingredients into the wet ingredients bowl all at once, and fold or gently mix until everything is fully combined.

Using a rubber spatula, pour the batter into the pan.

Bake the banana bread at 350˚F for 1 hour and 15 minutes, or until an inserted toothpick comes out clean. Be sure to turn the banana bread in the oven halfway through baking so that it bakes evenly on all sides.

Allow the banana bread to cool in the pan for about 20 minutes. When the pan is cool enough to handle, use a butter knife to cut around the edges, against the inside of the pan in case any parts of the banana bread have stuck. This helps it come out of the pan more easily.

Tip the loaf pan upside down and gently tap each edge of the pan against the countertop to get the banana bread out. It should come out fairly easily.

Allow the banana bread to cool another 15 minutes before cutting into slices.