Has it been hot where you are? This past week has been a tidal wave of heat, humidity, a relentless sun, and it's perfect for days spent in the ocean. We Mainers spend most of our lives in the bitter cold, longing for a spark of warmth. Yet when the heat comes, we can not help but crave the cold. We toughen the soles of our feet against the rocky, barnacle-speckled beaches just to reach the frigid, salty waters and escape the heavy heat for a short while. Humid Maine summers are squired by cold, salty dips into the ocean and a lingering appetite for cold foods. Classic summery things like popsicles, cold and juicy watermelon, and as much fresh lemonade as I can squeeze. I love to experiment with things I can truly make my own, and a healthy potato salad has been my go-to for years.
Potato salad can be so many different things. It seems everyone, everywhere has their own version. I've seen Japanese potato salads, potato salads with curry, vegan, no mayo, with bacon and vinegar, and many more variations. Then of course there is that classic, less than healthy potato salad that is a bit like eating spoonfuls of mayo, but it's still kind of good. I consider my own version to be a bit rustic, and packed full of veggies without feeling too vegetable heavy. It's satisfying and full of flavor. It's also perfect for hot days when you can't bear to turn on the stove, or if you're headed out and want to toss it into a cooler.
We've been spending a lot of time down at the pond and on the ocean. I do tend to overpack on our outings now (perhaps it comes with the territory of being a mom…? I don't know.) and this healthy potato salad usually tags along with us. My kids all love it, and rarely tire of it. My oldest daughter Amelia, who tends to turn up her nose at most vegetables, would eat this every day if I were to serve it to her. She's more of the aforementioned mayo-heavy potato salad enthusiast. But a healthy potato salad? I've actually come downstairs to find her eating it for breakfast some mornings. For a girl who I'd assume would love the mayo-heavy version, this one really knocked it out of the park.
Steps and Tips to Make A Healthy Potato Salad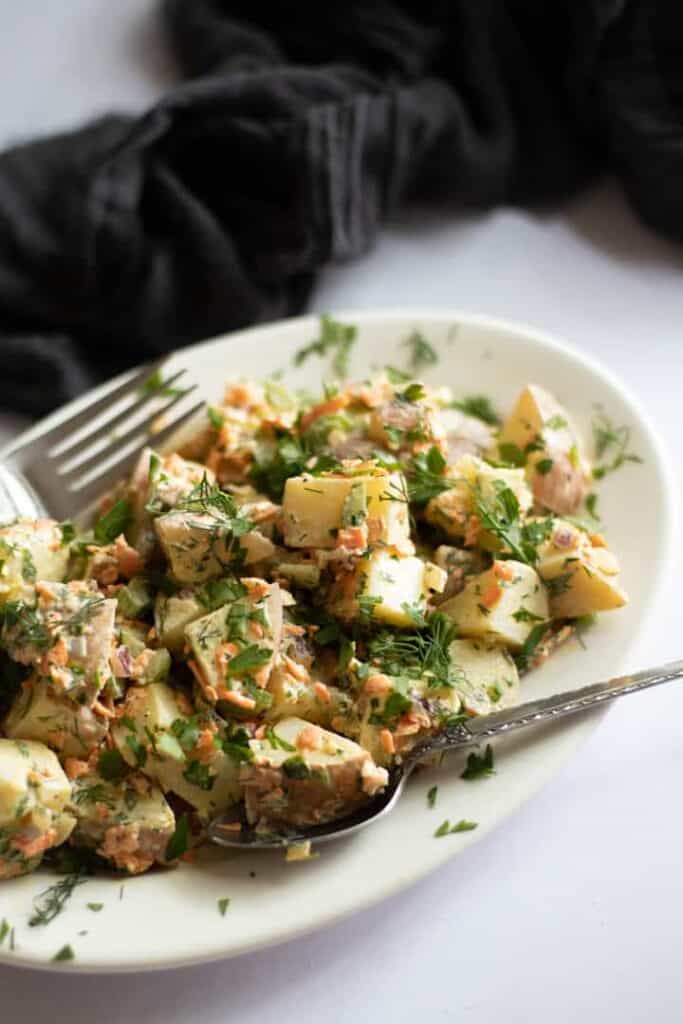 1) The first step is to prep all of the vegetables. For this potato salad I like to use:
Red potatoes
Dill pickles
Celery
Carrot
Red Onion
Dill
Parsley
2) While this healthy potato salad does have a nice array of veggies in them, I like to keep them fairly subtle by chopping them vert small and keeping the potatoes larger in size. Cut the potatoes into approximately 1″ cubes, and everything else can be diced quite small. For the carrots, I like to grate them using a cheese grater (or you can use a food processor), and then chop up the grated carrot into even smaller pieces. The herbs can be roughly chopped.
3) Once all of your vegetables are prepped, most of the work is already done! Next, blanch the potatoes. Blanching sounds like a fancy cooking to term, but it's really just boiling something and then as soon as it's done you plunge it into cold water to stop at from cooking any further. Potatoes hold a lot of heat and when you strain them there is a lot of steam, so they will continue to cook and soften if you leave them sitting in a strainer after boiling. Since we don't want our potatoes too mushy, I recommend boiling about 8-10 minutes. To be sure, you can poke a fork through one piece of potato and see how soft it is. You want it to be tender, but not falling apart. Once they are tender, strain them and dump them into a larger pot of cold water, or quickly rinse them off with cold water until they have cooled. Set them aside for a few minutes to dry.
4) Once the potatoes have cooled off to at least room temperature, it's time to mix everything together. Combine all of the ingredients into a large mixing bowl and mix well until everything is nicely distributed and lightly coated with mayonnaise.
5) Finish by adding salt and pepper to taste.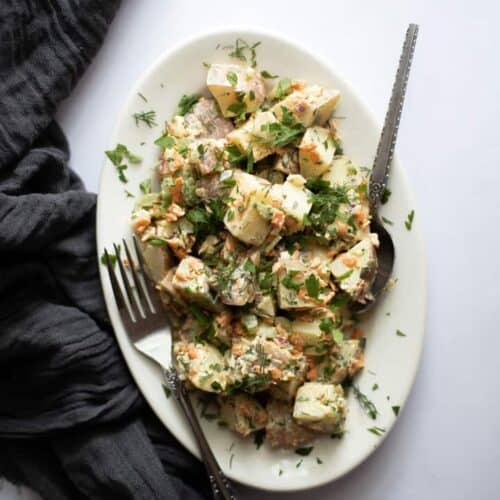 Healthy New England Potato Salad
This potato salad is satisfying and filling- packed with veggies and only a light amount of mayo.
Ingredients
3

Lbs

Red Potatoes, chopped into one inch cubes

4-5

Pickle spears, diced

2-3

Stalks

Celery, diced

1/4

Cup

Red Onion, diced

2-3

Carrots, grated and then chopped

1/4

Cup

Mayonnaise

1

Large Handful

Fresh Dill

1

Large Handful

Fresh Parsley

Salt + Pepper
Instructions
Blanch the potatoes by boiling them about 7-10 minutes (until just tender, but don't overcook them so they fall apart) and immediately rinse with cold water or plunge into a pot of cold water after straining. Allow them to cool.

Meanwhile, prepare the additional vegetables as listed above. Most of these vegetables are diced. For the carrots, grate them with a cheese grater or food processor, and then roughly chop into smaller pieces.

Chop the fresh dill and parsley, and set aside.

Once the potatoes have cooled to at least room temperature, combine all of vegetables and herbs in a large mixing bowl. Add the mayonnaise and mix well to coat everything lightly with mayo.

Add salt and pepper to taste (I start with approximately 2-3 tsp salt, and several good shakes of pepper)

Serve immediately, or store in the fridge for up to 5 days.
A Little About Me…
Hi! I'm Amber, a food photographer and recipe developer in Maine.
I work as a food photographer, stylist and recipe developer throughout the New England area, capturing various food stories, products and recipes. I also write regularly on my food blog, Downeats. I love to inspire others to cook and enjoy delicious, healthy meals with their loved ones. I grew up and still live in Maine with my (gorgeous, wonderful, hardworking) high school sweetheart and our (hilarious, talented and beautiful) children. I believe in living slow and enjoying life and I love to capture shared moments. You can read more about me here. If you are looking for a food photographer or recipe developer please contact me here.