Summer in Maine is a thing. Okay, obviously it's a thing… a yearly thing… but it's also a thing. A thing that keeps you as busy as the Swans Honey bees. A thing that keeps you awake at night around a bonfire on rocky beaches, mosquitos be damned. A thing that makes you want to snag all the plentiful produce at all the cunning little farm stands and turn it into bakes, boils or barbecues (or in my case, into a beautiful ratatouille). In fact, "Summer in Maine" is a phrase you hear thrown around a lot when you're here. It can really be the answer to many questions you might ask someone. For example:

"How's it going? How have you been?"
"Oh, you know. It's summer in Maine."
Or, perhaps:
"What is with all this traffic?!"
"Summer in Maine."
It's a way of saying things are busy and hot and beautiful and crowded and enjoyable all at the same time. Mainers know what summer in Maine is like, so the phrase is understood without much explanation. To me summer in Maine means frigid salt water swimming, humid evenings looking for fireflies with the kids, and lots of farmers market visits. The days are packed and the season always ends too fast, slipping through our blueberry stained fingers and leading us into an equally vibrant (but seemingly shorter) autumn. Plentiful are the Maine blueberries, heirloom tomatoes and oversized zucchini, and come mid-July my fridge is overflowing with all of them. Flourishing bouquets of herbs and dahlias also make a regular appearance in my kitchen. Lately I've taken up a particular fondness for zucchini. Last summer I discovered the not-so-mysterious simplicity in how to make ratatouille with the plethora of summer veggies I had collected one weekend. Classic New England recipes are just as commonplace in my kitchen: fried haddock, Maine blueberry pie, pretty much anything with potatoes. Ratatouille was intriguing to me, but not only had I never made it -I had never even tasted it. Turns out, it was much easier than I thought. One year later I've finally perfected my version of it. Needless to say, if you've been wondering how to make ratatouille, please read on.
Ratatouille is anything but part of the repertoire of native New England recipes. It's originally a French dish, though I think that many people started wondering how to make ratatouille when the Pixar movie was released several years ago. I think it's quite common now. It's now one of my favorite things to make for dinner, because it's simple, healthy and tastes delicious. It's also great during the summer when you have lots of seasonal produce that you want to use. You can also serve it over rice, pasta, or alongside a baguette… so there is a bit of versatility there, too. If you've seen the movie, don't be intimidated. The recipe that follows does not include fancy cooking or plating techniques. At it's most simple (and in my opinion, best) ratatouille is roasted veggies that are then cooked on a stovetop into a summer stew. Zucchini, summer squash, tomatoes and eggplant are traditional, though red peppers can also make an appearance. I like to make mine with a shallots or onion, and plenty of garlic.
How to Make Ratatouille: A Perfect Summer Stew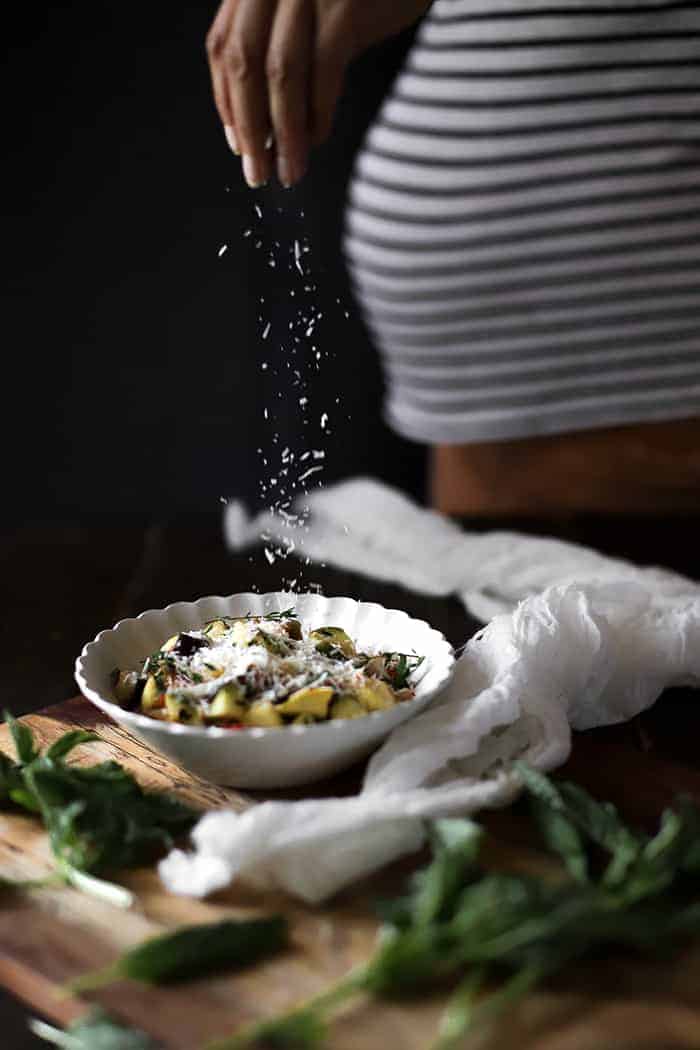 1) Prepare all of your vegetables. I like to cut the eggplant, zucchini, summer squash and tomatoes into approximate 1″ cubes or so. I cut the red pepper and onion into smaller, diced pieces. The garlic should be chopped quite small.

2) Saute the onion on medium-low heat, stirring occasionally, until translucent- about 2-3 minutes -then add the garlic.

3) Allow the garlic and onion to cook together about 2 minutes, then add in the eggplant.

4) Saute the eggplant for about 5-6 minutes, then add the zucchini, squash and bell pepper. Saute everything for another 7-8 minutes.

5) Add in the chopped tomatoes and thyme, mix everything well, and sprinkle generously with sea salt.

6) Turn the heat to a low simmer and allow the vegetables to all cook together for about 8-10 minutes, stirring every couple minutes. This gives the tomatoes time to break down into a more sauce-like stew.

7) About a minute before turning off the heat, add in the freshly chopped basil.

8) Serve immediately over rice, pasta, or alongside a fresh baguette. The kids and I always top ours with a sprinkle of parmesan cheese, and fresh parsley.
Hi! I'm Amber Rogals, a food photographer, food stylist and recipe developer in Maine.
Hello! I'm Amber and I'm food photographer, food stylist and recipe developer living in Maine. I work throughout the New England area and beyond! I am the writer behind, Downeats, my food blog that aims to inspires others to cook and find connection through food. I live on the coast of Maine with my (amazing, wonderful, supportive) high school sweetheart and our (equally as wonderful and amazing) three children. I love connecting with others, capturing shared moments, creating recipes, and cooking with seasonal foods. You can read more about me here. If you are looking for a food photographer, food stylist or recipe developer please contact me here.