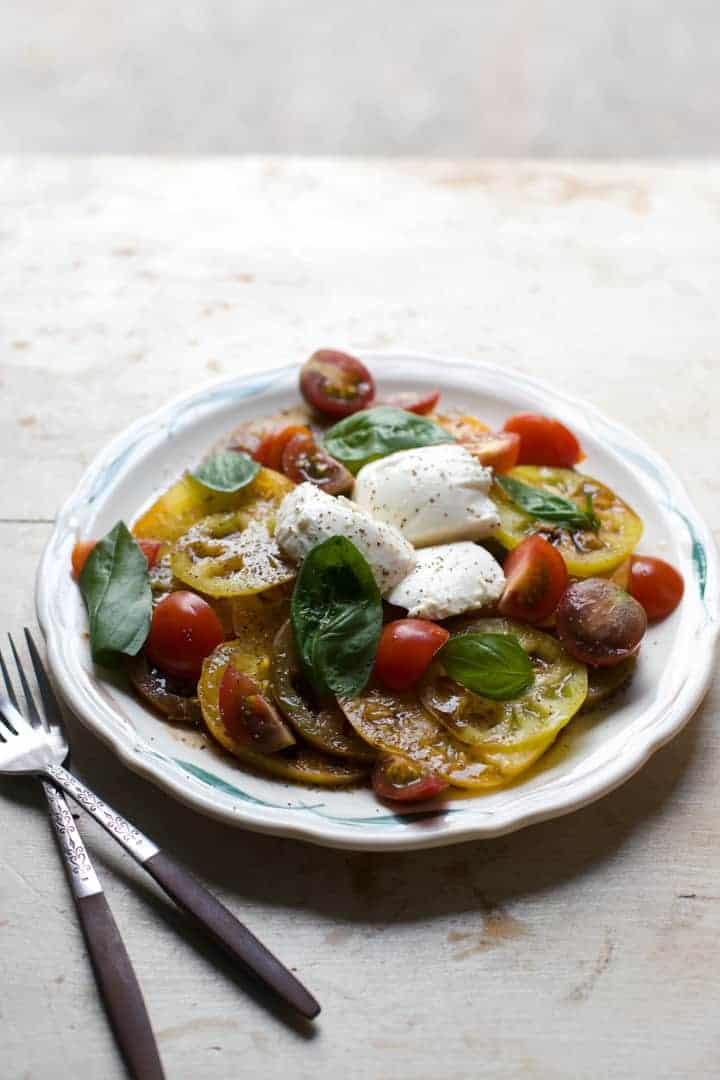 My 9 year old daughter does not like tomatoes. She insists that they are "too slimy", "too cold", "too sour", "too sweet", or just have "a weird texture". This has been going on since she was a toddler. She never has taken to tomatoes- and I have tried a wide variety. Hothouse, vine, Roma, cherry, grape, heirloom- it doesn't matter. If there is the littlest slice of fresh tomato on her plate she will always eat it with disdain. I do, however, believe in perseverance and have continued to serve tomatoes to her over the years. I've never avoided giving her tomatoes or fixed "a special plate just for her" at mealtimes. For example, she will eat salsa. She will eat a BLT-begrudgingly. Cooked tomatoes are almost always a win. So it probably goes without saying that this Caprese salad is not a favorite of hers.
It is, however, a favorite of mine and pretty much everyone else in our house. The only people I know that don't appreciate it are the few vegans in my life, and even they'll admit that a good Caprese salad is quite delicious, even if they don't. Caprese salad is such a quick and delicious summer salad. I love making it (despite my daughters complaints) because it's fast, simple and (sans my daughter) universally loved. It's perfect for a light lunch, or a side salad at dinner.
Caprese salad is clearly not a New England recipe, though you can find it at restaurants and I've seen it served at various parties and barbecues I've been to. Caprese is traditionally Italian, and served simply with fresh tomatoes, fresh mozzarella, basil leaves and a little olive oil, vinegar and sea salt. I've read that upon it's first creation in the early 1920's it wasn't a big hit. In fact, it didn't quite catch on until it was served as a sandwich, and then it quickly spread like wildfire. Now it is common to find in many different places around the world, and I've seen many different presentations of it. Once you know the foundation, it's easy to get creative and make it your own.
Personally, I think to get the best results with cooking it comes down to having the best ingredients you can find/afford. For the recipe following, I recommend grabbing the best quality tomatoes you can (perhaps at a local farm or market?), and a good quality olive oil. I prefer the mozzarella that comes in water for this salad, and sea salt over kosher salt. Maine always has the most beautiful, plentiful array of tomatoes that pop up everywhere by mid July. They can be found at every farmers market, farm stand and backyard garden you could come across. Big, juicy, colorful heirloom tomatoes are my favorite and I wait all winter for them. This salad is delicious with heirlooms, so if you can get your hands on some, I highly recommend it!
How to Make a Simple Caprese Salad
Step One Slice the tomatoes into large rounds. I like mine fairly thick, but it's entirely preferential! You can make them into thin slivers, smaller wedge shapes, or even cubes. If you happen to be using smaller, cherry or grape tomatoes I recommend halving or quartering them.

Step Two Slice the fresh mozzarella. Alternatively, if you're using the smaller balls of fresh mozzarella, you can half them, or leave them as-is!

Step Three Lay the tomatoes and mozzarella on a plate, alternating between the two. So a slice of tomato, with a slice of mozzarella overlapping half of the tomato slice. Then repeat. You can also scatter the tomatoes and mozzarella evenly around the plate if you're using smaller balls of mozzarella and grape or cherry tomatoes.

Step Four Drizzle the olive oil and vinegar evenly on top of the tomato and mozzarella. Sprinkle with a bit of sea salt and black pepper if you prefer.

Step Five Decorate with a generous amount of fresh basil leaves.
Hi! I'm Amber Rogals, a food photographer and recipe developer in New England
A bit more about me…
Hi! I'm Amber Rogals and I am a food photographer, and recipe developer in northern coastal New England. I also write and photograph regularly for my food blog, Downeats. You'll usually find me cooking and developing recipes with seasonal foods, and gathering with loved ones to enjoy everything. I grew up on the coast of Maine and live here with my (gorgeous, amazing, hardworking) high school sweetheart and our (hilarious, talented and wonderful) three kids. I love to tell food stories through my camera lens, and inspire others to cook, eat, gather, and live slow. You can read more about me here. If you are looking for a food photographer or recipe developer please contact me here.