I suppose I've been handling the near year-long pandemic much like everyone else: isolated, doing ridiculous things with couch cushions to entertain the children, and anteing up my cooking skills. For one reason or another, I haven't been able to get my mind off of chocolate. It's probably my own fault. I buy it in all forms during large grocery runs, motivated by both the panic-infused idea that I'll end up running out and then, of course, my infatuation with the stuff. In a somewhat beguiled frenzy, I toss about through the kitchen for inspiration, piling the wide variety of chocolate I have front and center. Chocolate chips (both semi- and bittersweet), cocoa powder, Green & Blacks, Tony's and some Icelandic for afternoon munching, random bags of mini chocolate chips, and several baking bars at various percentage rates. All things perfect for decadent dishes like oatmeal chocolate chip cookies, chocolate mousse, or chocolate butter cake.
I've decided on chocolate mousse. The ingredients are few, the process is quick (and equally as satisfying), and it's perfectly delicious. The more that I think about it, chocolate mousse is actually entirely decadent- taste, texture, smell, not to mention how much you can dress it up. It's my second favorite dessert, next to tiramisu. If you love light, fluffy, sweet treats, this is exactly that. It's also fairly simple to make and doesn't use a lot of ingredients. There is a bit of patience involved in making chocolate mousse, but trust me, it's well worth it.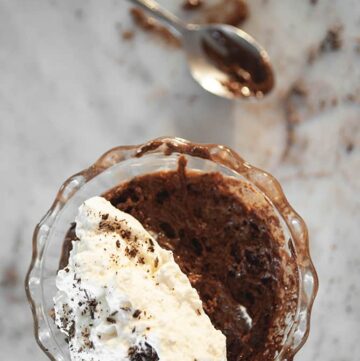 Perfect Chocolate Mousse
I often make this in the fall and winter months, and serve it in little dessert glasses. It's delicious served with raspberries and a fresh mint leaf, or crushed pistachios and a dollop of whipped cream.
Ingredients
6

Eggs

1/2

Cup

Sugar (Divided into two 1/4 cups)

8

Ounces

Semi-sweet Chocolate (60% Works best)

6

Tbsp

Butter

1/2

Tsp

Salt

1

Tsp

Vanilla Extract
Instructions
Using the double boiler method, melt the chocolate and butter together. Be sure not to let any moisture/water/steam into your chocolate as it will cease and ruin the batch. Once the chocolate and butter have melted, remove from the heat, and stir gently using a rubber spatula. Set aside and allow to cool.

In two mixing bowls, separate the eggs- whites in one bowl, yolks in the other bowl. The egg yolks should be in a larger bowl, because you will eventually add all of your ingredients into it.

Add 1/4 cup of sugar to the bowl with the eggs yolks and whip on medium speed about 5-7 minutes, until light yellow and a bit fluffy.

Using a clean, dry whisk attachment, now whip the egg whites. Once they have reached soft peaks slowly add in the sugar, then the salt and vanilla. Whip until stiff peaks form, and take care not to over whip them.

Pour the cooled chocolate mix into the egg yolk/sugar mixture (It will probably still be warm, which is okay. As long as it's not hot.) Using a rubber spatula, gently fold in to fully combine, until there are no yellow streaks. Once fully combined, fold in the egg whites until there are no white sections and everything is combined.

Divide the mousse into small, 4-6 ounce serving dishes, and allow to chill in the fridge for at least a few hours before serving. You can also put all of the mousse into a larger tupperware container, and refrigerate for at least a few hours, and then spoon into bowls, on tart shells, or however you please. Serving with fresh whip cream is highly recommended!
Notes
This rich, fluffy dessert is best made the morning of or the day before. It will keep in the fridge for about 3-4 days. 
Perfect Chocolate Mousse Tips:
One of the most important factors in getting your chocolate mousse right is to not let any amount of moisture get into your melted chocolate. Not one drop! This will cause your chocolate to seize, and change into a yucky, dry, texture, impossible for making silky chocolate mousse. Be very aware of steam getting into your melted chocolate when using your double boiler.
Do not over (or under) whip your eggs. They should be at soft peaks when you add the sugar, and just at stiff peaks after you add the sugar. Over whipped eggs will make it hard to fold in your eggs and the texture will not be as light and fluffy.
Just like most dishes are only as good as the quality of your ingredients, your quality of chocolate matters when making chocolate mousse. I highly recommend getting the best quality that you can!