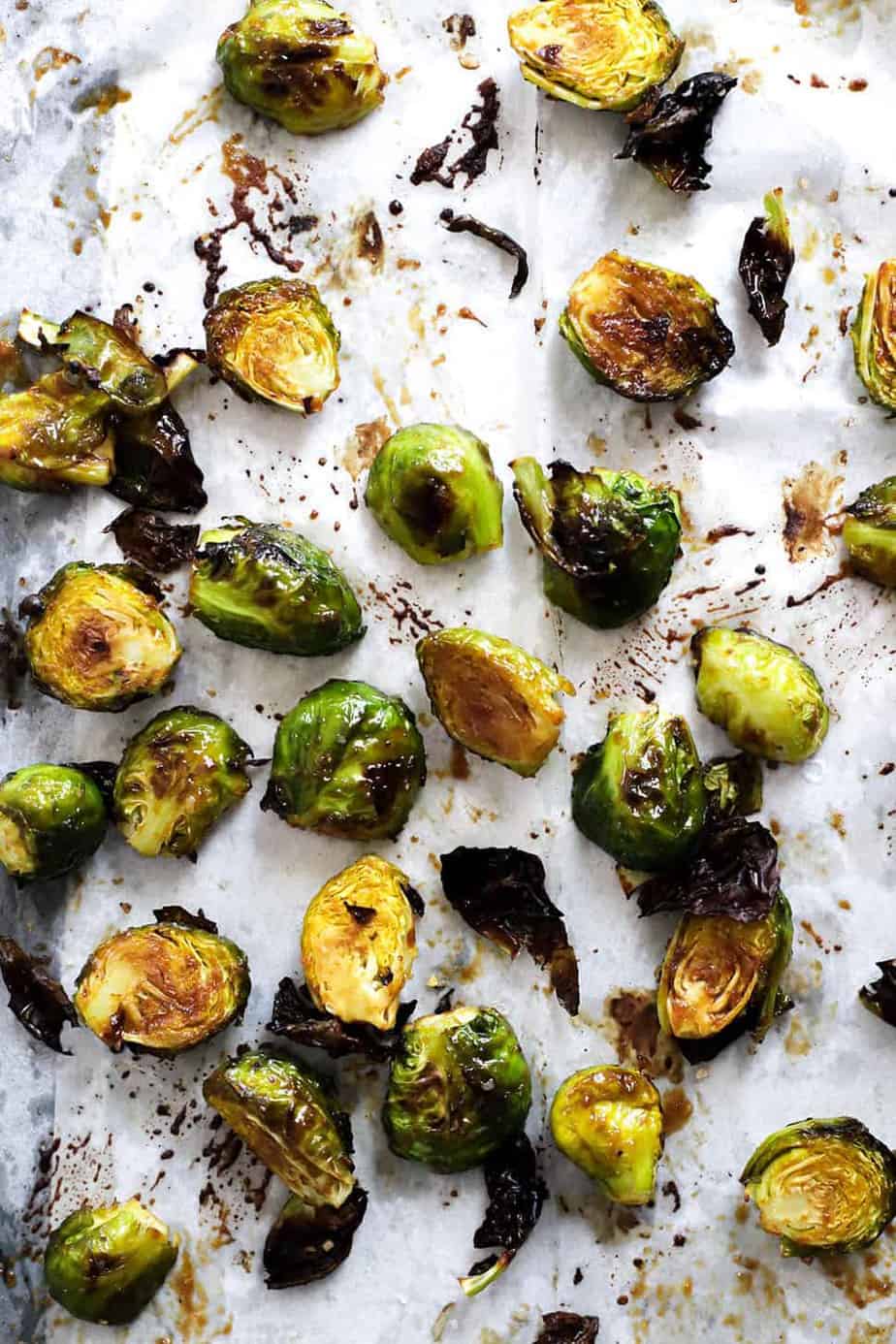 Fall in Maine is a brisk autumn whirlwind of fiery color and, if you're a local, an affectionate dose of chilly nostalgia that silently warns you to prepare for the long winter. On the most beautiful of days, thick, gray clouds blot out the sun and the warm hues of the dying foliage just barely peak through an eerie fog. The fog and rain bleed the colors together like a fresh watercolor painting. Those are the days I consider myself lucky to be able to turn on the oven and roast a nourishing bit of the local market harvest. Fall has long come and gone, but I'm still making some of the yummy late fall and early winter harvest veggies that inspire me. These crispy roasted Brussels sprouts are pretty much on my menu weekly.
Brussels sprouts are long time favorite of mine, and even though nothing comes remotely close to eating them roasted crispy, and sea salty. Occasionally a bit of sticky-sweet glaze at the very end is pure perfection. Yum. Making crispy roasted Brussels sprouts certainly isn't tricky-but I have a simple recipe and a few tricks that will help you get it right every time.
Crispy Roasted Brussels Sprouts with Miso Honey Glaze
Brussels Sprouts are best eaten crispy, salty and warm. Enjoy!
Ingredients
Brussels Sprouts
1

lb

Brussels sprouts

2

tbsp

Olive oil

1

tsp

Sea salt

Black pepper, to taste (Optional)
Miso Honey Glaze
2

Tsp

Sesame oil

2

Tsp

Miso (I use red, but white is good, too!)

2

Tsp

Honey

1

Tsp

Rice vinegar
Instructions
Prepare the Glaze
I like to make the glaze before doing anything else, so that it warms up to room temperature. Simply combine all the ingredients in a bowl and whisk together until fully combined. Set aside for later.
Roast the Brussels sprouts
Preheat your oven to 425˚.

Cut the ends off of the Brussels sprouts and peel away any outside leaves that look a bit distressed. Cut each Brussel sprout in half. If some of the Brussels sprouts are on the smaller side you can leave them whole instead of cutting them.

Place all of your freshly cut Brussels sprouts into a large bowl. Add the olive oil and salt, and mix until all of the Brussels sprouts are evenly coated.

Spread the Brussels sprouts evenly on a baking sheet covered with parchment paper. Try to make sure the Brussels sprouts aren't touching each other, or piled on top of one another, otherwise they will steam and be soft, instead of crispy. Use two pans or cook in two batches if you need to.

Roast the Brussels sprouts in the oven at 425˚ for approximately 20 minutes, rotating the pan after ten minutes.

Once you've taken them out of the oven, quickly pour them into a bowl large enough for mixing them around. Drizzle the glaze all over the Brussels sprouts and mix well to coat them completely. They should be nicely covered, but not sitting in a puddle of glaze. If you need to heat them back up after tossing in the glaze, then just toss them back in the oven at 425˚ for 3-4 minutes. Top with an extra sprinkle of sea salt.
Tips for Getting Crispy Roasted Brussels Sprouts
Do not overcrowd your pan. None of the Brussels sprouts in your pan should be touching- if they are, they will start steam cook instead of roast. This will make them soft instead of crispy!
Don't cook anything else in the oven at the same time. Again, your risk accidentally steaming your Brussels sprouts if you're cooking something else in the oven that may have a fair bit of moisture in it.
Salt them at the end. Yes, salt immediately after taking them out of the oven. Use quality sea salt if you have it. (I use this box religiously as a topping salt)
Use high heat. If you want your Brussels sprouts (or any other veggie you're roasting) to not only come out crispy, but to also have that "charred" roasted flavor, you need to make sure you preheat your oven and that you're cooking on high heat. The recipe I've outlined above has your oven at 425˚.
Preheat your roasting pan, too! Yes, really. If you want truly crispy Brussels sprouts layers on the outside, and tender on the inside your roasting pan should be preheated. Once you've tossed your Brussels sprouts in olive oil, you'll (quickly and carefully) put them on your hot roasting pan, and that will ensure that the outsides get enough heat to be roasted to crispy perfection.