When it comes to New England recipes and New England food most people think of the classics you'll find at any harbor dwelling eatery. Things like lobster, clam chowder, baked beans, apple cider, blueberry pie… etc. These things can all be found at any little hub along the east coast north of Boston. Don't get me wrong- I love those things. There is a time and a place for them (for arguments sake, pretty much any time is a time for blueberry pie.) However, I am a cook, and I like to utilize all of Maine's riches. Summer in Maine is short, and it seems only fitting to get the most out of summer foods while they're fresh and bursting. Maine is famous for lobster, blueberries, and we locals probably all have our fair share of apple recipes stashed away in our kitchens somewhere. But have you seen our heirloom tomatoes? What about our selection of mushrooms just waiting to be foraged? And do you know how large the zucchinis here get? This zucchini carpaccio is inspired by my love for zucchini, but also all things summer in Maine. And for you folk that love the traditional New England recipes -yes, it includes Maine blueberries.
If you're unfamiliar with carpaccio, it's traditionally a meat dish and comes from Italy. Carpaccio is commonly served in Italy as a thinly sliced raw meat or fish. It's also generally a starter or side- not a main dish. Sometimes it will have capers, onions or sprigs of arugula decorated around it with drizzles of olive oil and lemon juice. These are all things you can add to the recipe below if you feel like improvising. I've seen other carpaccio's made that are not of the meat variety- commonly mushroom, carrot, beet or a combination of veggies.
My carpaccio features zucchini- which is plentiful during the summer- and Maine blueberries. Again, it's not one of the traditional New England recipes, but it's certainly inspired by the flavors of New England. In fact, just about everything in this dish was grown or crafted locally- the cheese, vinegar, produce, and even the sea salt. If that doesn't scream New England recipes, I don't know what does. (Okay, I do know what does, but you know what I mean, right?) This carpaccio dish is perfect for a light lunch or a starter course for dinner. As long as you have a mandolin, it's very, very easy to make. Without a mandolin, you can attempt to slice your zucchini as thin as possible with a very sharp knife, or possibly use the wide slicer of a cheese grater. For ease, consistency and perhaps less stress, I'd opt for a mandolin.
New England Recipes: Though non-traditional, zucchini carpaccio encompasses some of Maine's favored summer flavors.
Step One Slice the zucchini into thin round slices using a mandolin. If you don't have a mandolin you can definitely use a knife, or even the widest side of a cheese grater. The key is keeping the slices as thin as possible.

Step Two Lay the zucchini slices individually in an overlapping circle on a large plate. You can also form them in a line, or in any decorative way so that they are all showing a little bit. This way when you drizzle them with olive oil and vinegar each piece gets a little bit. Basically, you just don't want them stacked on top of each other.

Step Three Sprinkle fresh blueberries on top of the zucchini.

Step Four Grate the ricotta salata on top of the blueberries and zucchini.

Step Five Drizzle with olive oil, vinegar, and sprinkle with a little bit of sea salt.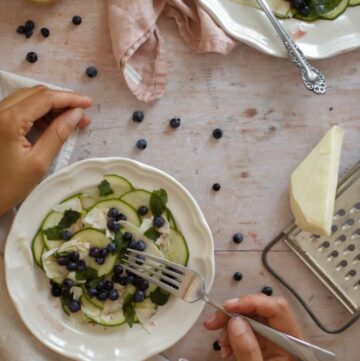 Zucchini Carpaccio
Ingredients
2

Large

Zucchini

1/2

Cup

Blueberries, preferably Maine Wild, but any kind is fine!

1/4

Cup

Olive Oil

1/8

Cup

Blueberry or Balsamic Vinegar

2-3

oz

Ricotta Salata

Sea Salt
Instructions
Using a mandolin, slice the zucchini into rounds/coin shape on the thinnest setting. If you do not have a mandolin, simply use a very sharp knife to cut the zucchini into slices as thin as possible.

Distribute the slices around onto a large plate, or evenly onto smaller individual plates in a decorative fashion. I like to go in circles, slightly overlapping each one, but you can place them however you prefer!

Sprinkle the blueberries evenly around the plate on top of the zucchini.

Grate the ricotta on top of the zucchini and blueberries, again distributing evenly.

Drizzle the oil and vinegar, and sprinkle lightly with sea salt.
A little more about me…
Hi! My name is Amber Rogals and I'm a food photographer and recipe developer in Maine. I also serve the New England area and beyond, and write and photograph regularly for my food blog, Downeats. I absolutely love cooking and developing recipes with seasonal foods, and gathering with loved ones to enjoy everything. I grew up on the coast of Maine and pretty much never left. Now I live here with my (gorgeous, amazing, hardworking) high school sweetheart and our (hilarious, talented and wonderful) three children. I love to capture shared moments, and inspire others to cook, eat, gather, and live slow. You can read more about me here. If you are looking for a food photographer, food stylist or recipe developer please contact me here.