This morning I woke up to the sound of rain. Rainy weather in the fall is typical in New England (well, at least Maine and probably more so in the Downeast and coastal regions) We do get a bit of leftovers from the hurricanes that make their way up the east coast, but even still- it tends to be a season of grey skies, wet leaves, and plenty of puddle stomping (if you have kids). The emphatic, though ever soothing, chorus of droplets hitting the leaves of our towering canopy of a chestnut tree sets a mood in itself. Are you one of those people that is comforted by the sound of rain? The sound makes me feel at ease, and long for cozy things. One of my first thoughts as I was laying in bed this morning was that I had to make this spiced apple cake. The scent of warm apples, cinnamon and brown sugar is the epitome of fall, no? Well, at least one epitome of fall. New England recipes in the fall have always been like magic to me- they bring comfort, nourishment and delight in the cold, often blustery chill. New England food (at least in our family) has also always been defined by bringing people together- an irreplaceable feeling of community, and belonging. Of course, summer foods in Maine do this, too, but the colder months seem to lend a more intricate combination of comfort, gathering and satisfaction.
The best fall recipes offer both comfort and nourishment.
I've been working on this spiced apple cake recipe for a few weeks now, trying to get it just right. In my opinion, it's pretty close to perfect. If I have the urge to write down a recipe for the sole purpose of handing it down to my children someday, I know that a recipe is good enough to stop tweaking. This is definitely scrawled into my book of heirloom recipes. I also know it's just right when the batch doesn't last longer than a day or two, because Ryan and the kids keep going back for more. I feel blessed to have a large family of willing taste-testers, all with a variety of developed palettes for things like this. While the kids do tire of some of my savory dishes on repeat, cakes and galettes never get old. This apple spice cake is one of the things I truly love about New England- taking locally foraged produce and turning it into something truly magical that encompasses various senses at once. Call me old fashioned, but for me it's all about creating traditions and memories. This cake, for our family, is becoming both.
A New England Spiced Apple Cake
The ingredients needed for this cake are mostly things you probably have already. If you've become a regular on my blog before, you know that I like to keep my recipes simple and focus on quality ingredients instead. Most of my feature one or two seasonal ingredients and things that most people already have stocked away in their kitchen, and this spiced apple cake is no exception to that.
Step One Start by preheating the oven to 350˚F, and generously butter a loaf pan.

Step Two Mix together the dry ingredients: flour, baking powder, baking soda, salt, and all of the spices except for 1 teaspoon of cinnamon.

Step Three Melt the butter in a small saucepan on low heat and allow it to cool for a few minutes. While it cools, grate the apples. Set the grated bits in a strainer and squeeze out any excess water for a minute or two.

Step Four In a separate, smaller bowl, combine the brown sugar and additional teaspoon of cinnamon, and whisk until evenly incorporated.

Step Five In a large mixing bowl, combine the granulated sugar, melted butter, eggs, sour cream and vanilla and whisk thoroughly.

Step Six Fold in the dry ingredient mixture until there are no dry spots, but don't over mix.

Step Seven Fold in the grated apples- again don't over mix!

Step Eight Lastly, pour in the mix of brown sugar and cinnamon. Fold in just a few times, no more than 3-4 times. You want there to be "pockets" of brown sugar and cinnamon, instead of having it evenly distributed, so folding it in just a few times and leaving it mostly unmixed is important here. Keep in mind that it will become even more mixed in as you scoop the batter into the pan, too.

Step Nine Gently scoop the batter into the pan, spreading evenly, but mixing or working with the batter as little as possible.

Step Ten Place in the oven and bake 75 minutes, until the edges start to pull away from the sides of the pan and a toothpick can be stuck in the center and removed quite clean.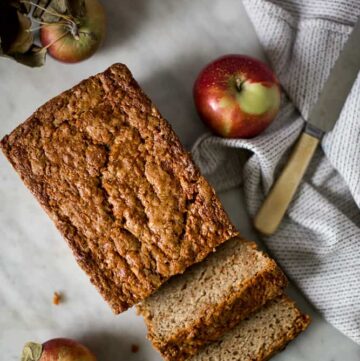 New England Spiced Apple Cake
This cake is deliciously moist, sticky and full of comforting fall flavor. We often eat it as-is, but it's delicious served warm with a small scoop of vanilla ice cream, or with a drizzle of caramel.
Ingredients
4

Medium

Apples, peeled and grated

1

Cup

All-purpose flour

1

Tsp

Baking powder

1/2

Tsp

Baking soda

1/2

Tsp

Salt

2

Tsp

Cinnamon (divided)

1/2

Tsp

Ground Ginger

1/2

Tsp

Nutmeg

1/2

Tsp

Cardamom

8

Tbsp

Butter, melted and slightly cooled

1/2

Cup

Granulated Sugar

2

Eggs

1/4

Cup

Sour Cream

1

Tsp

Vanilla

1/2

Cup

Dark Brown Sugar
Instructions
Preheat the oven to 350˚F.

Place the butter in a small sauce pan and set on the stove at low heat. Once the butter is fully melted, allow to cool for 5-10 minutes.

While the butter melts, peel and grate the apples using a cheese grater. Set the grated apples into a strainer and squeeze gently to remove excess water. Set the apples aside.

In a medium sized mixing bowl, combine the dry ingredients: flour, baking powder, baking soda, salt, ginger, nutmeg, cardamom, and 1 teaspoon of the cinnamon. Whisk gently to blend them all together.

In a smaller, separate bowl measure out the brown sugar and the other teaspoon of cinnamon and set aside.

In a separate, larger mixing bowl whisk together the sugar and melted (but slightly cooled) butter.

Whisk in the eggs, sour cream and vanilla.

Pour the bowl of dry ingredients into the bowl of wet ingredients all at once. Using a rubber spatula, gently fold in the dry ingredients until fully combined, but take care not to over mix. The batter will be very thick, almost like a dough.

Once there are no dry spots of flour, gently fold in the grated apples until they are evenly distributed throughout the batter.

Finally pour in the brown sugar/cinnamon mixture. Fold in gently and only fold about 5-7 times total. To create distinct "swirls" of brown sugar, you don't want to fully incorporate the brown sugar.

Gently scoop the batter into your loaf pan, spreading it evenly on the top, but handling it as little as possible.

Set in the oven to bake 1 hour and 15 minutes- until a toothpick comes out clean when poked through the center.

Allow to cool at least 20 minutes before removing from the pan and cutting into slices.

Serve with a small scoop of vanilla ice cream, a drizzle of caramel syrup, or enjoy as-is!
Hi! I'm Amber, a New England food photographer and recipe developer.
Hi! I'm Amber Rogals and I am a food photographer, and recipe developer living and working in Maine. I also serve the New England area and beyond, and write and photograph regularly for my food blog, Downeats. I absolutely love cooking and developing recipes with seasonal foods, and gathering with loved ones to enjoy everything. I grew up on the coast of Maine and pretty much never left. I currently live here in Maine with my (gorgeous, amazing, hardworking) high school sweetheart and our (hilarious, talented and wonderful) three kids. I love capturing shared moments, and inspiring others to cook, eat, gather, and live slow. You can read more about me here. If you are looking for a food photographer, food stylist or recipe developer please contact me here.