It's officially fall but it's been fairly warm and I'm rather impatient in waiting for the cold weather to arrive. Not necessarily cold like classic New England cold, but chilly. Perhaps it's because being nine months pregnant makes 70 degree weather feel more like 90 degree weather. It could also be that I'm just craving those brisk Maine mornings that always make me want to drink spiced tea, eat all the comforting foods (ahem, these crispy oven fries) and frivolously buy school supplies. I'm eager to slip into my Hunter boots, wool tights and flannel button-ups, and longing for gray, drizzly mornings where the fiery leaves from our chestnut tree stick to my car windows. I'm anxious to finally hold this wiggly little babe in my arms. Roman and Amelia are both spring babes, and Fiona turned three in mid-August. This will be our first fall baby!
Most of my time has been spent in the kitchen (always), or trying to get comfortable in bed. Every few days I do get hit with a severe burst of energy -lovingly referred to as "nesting" in pregnancy- and I spend a good 6-8 hours organizing and reorganizing a cluttered space in our house. It's coming along nicely, slowly, surely. In time for baby? Only time will tell. The kids are waist deep in Greek Mythology, basics of bread baking, and lots of daily math exercises at home. We're picking up French again next week. While Fiona spends a lot of her time doing puzzles, art projects, and following Amelia and Roman around, she loves the crisp, orange leaves falling off the trees and likes to watch the squirrels running around hoarding chestnuts and acorns. The boats are slowly starting to clear out of the harbor, leaving a vast, open view. The markets finally are aplenty with squash, dahlias and massive bouquets of kale, and I'm also working on my own perfect pie crust. Fall in Maine has finally arrived.
I could probably wax poetic about fall in New England all season long, but I'd also like to talk about potatoes. These Maine crispy oven fries, actually. Maine is actually quite known for russet potatoes and supplies much of the east coast. Oven fries are absolutely delicious when done right. Sometimes getting them truly crispy can be challenge and I've gone through several batches before coming up with this recipe. Well worth it, though! I love to make these for the kids every now and then as a late afternoon snack or a side to go with dinner. Roman and Amelia love them with mayo- Fiona is (of course) team ketchup. To be honest, they're really good as-is, too. New England food, in my opinion, is at its peak in the fall, and oven roasted french fries are a nice bit of comfort to munch on on a breezy fall afternoon.
These crispy oven fries are actually made with one of my new favorite go-to ingredients in the kitchen- seaweed! Having grown up on the ocean, I'm really passionate -and try to stay as informed as I can- about the health of our oceans. Seaweed plays a big role in keeping filtering harmful toxins out of the ocean. Additionally, seaweed offers a delicious salty/umami flavor to various dishes when used right! It's also really healthy, so a lot of wins here. For these crispy oven fries I've used a seaweed sprinkle from a Maine company called Ocean's Balance. Ocean's Balance has a wonderful variety of seaweed products- from tomato sauce to various dried seaweeds. I love the sprinkle because it's delicious and incredibly easy. For this recipe, Ocean's Balance seaweed sprinkle gives the fries a more in-depth, umami like flavor-especially if you dip them in ketchup or an Alabama white sauce type of thing. I also garnished these fries with thin strips of kombu.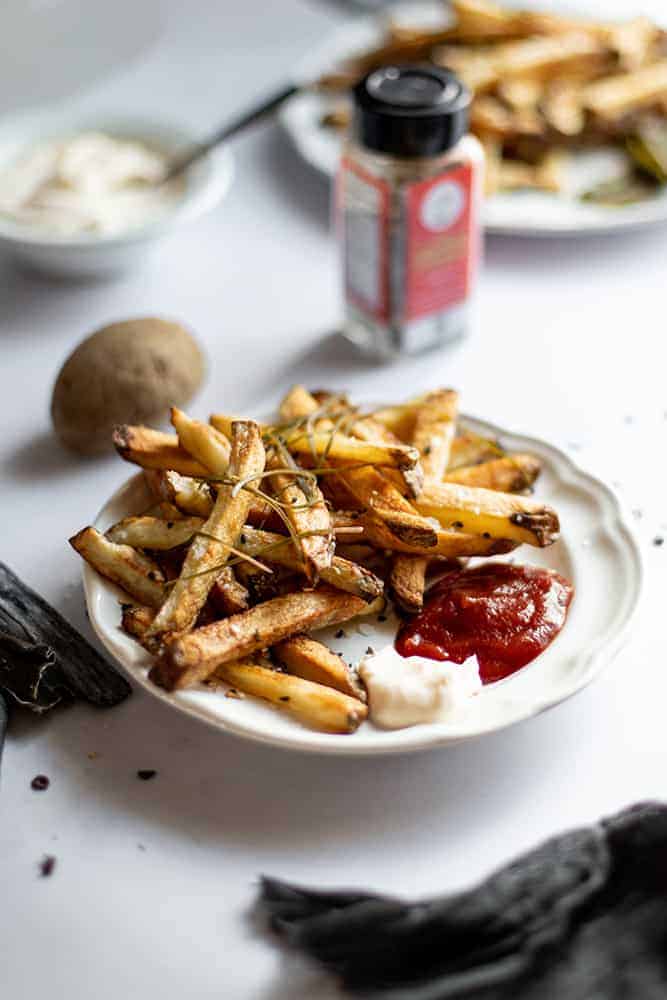 Crispy Oven Fries- New England Style
1) First cut the potatoes into long, french fry style strips. This is easier if you have a mandolin, but you can use a knife, too. Be sure to make them roughly the same size and thickness so that they cook evenly.

2) Put the fries into a large pot and fill with water-just enough to cover the fries. Set the pot onto the stove on high heat for ten minutes. The water should not boil before the ten minutes is up (if it does, set it to low heat).

3) While the fries are parboiling, set your dried kombu (or dulse) into a bowl of water to begin rehydrating it.

3) Strain the potatoes and give them a few minutes to cool off. Spread them onto a towel to dry them as best you can.

4) Preheat the oven to 400˚F.

5) Once the fries are semi/mostly dry, toss them into a large bowl with olive oil and salt so they are all evenly coated.

6) Lay the fries out on a baking sheet. Don't pile any on top of each other or have them set too close to each other. If they are too close together, they will steam instead of roast and then you will have soggy fries! It may be helpful two divide them between two pans depending on how many you have.

7) Set the fries into the oven and set a timer for 15 minutes.

8) While the fries are cooking, your kombu should be rehydrated enough to cut into strips. Remove it from the water, gently towel it off, and cut into thin, string-like strips for garnishing the fries with. Since this is just a garnish, you can cut as much or as little as you prefer!

7) After 15 minutes take the fries out to flip them with a spatula, so they cook evenly on all sides and set them back in the oven for 5 minutes. After another 5 minutes, repeat this process, flipping with a spatula and then setting them back in the oven for a final 3-5 minutes.They are ready when they are golden brown, after about 22-25 minutes. (Keep in mind that if you have cut your fries very skinny, such as shoe-string style they may cook a little faster than this!)

8) Remove from the oven, sprinkle with a little more salt, and Ocean's Balance shiitake seaweed sprinkle or spicy seaweed sprinkle. Garnish with a few thing strands of rehydrated kombu or dulse, and serve with ketchup, mayo or your favorite condiment!
More About Me. . .
Hi! I'm Amber Rogals and I work as a food photographer, stylist and recipe developer throughout the New England area, capturing various food stories, products and recipes. I also write regularly on my food blog, Downeats. I love to inspire others to cook and enjoy delicious, nourishing meals with their loved ones. I grew up and still live in Maine with my (gorgeous, wonderful, hardworking) high school sweetheart and our (hilarious, talented and beautiful) children. I believe in living slow and enjoying life and I love to capture shared moments. You can read more about me here. If you are looking for a food photographer or recipe developer please contact me here.