Fish cakes were a pillar of my childhood diet. My first introduction to them was as a young child, at the cafe my grandparents owned. My Opa was the chef and is well trained in culinary arts. He grew up in Germany, but much of his food are crowd pleasing New England recipes, with a lot of locally sourced ingredients. It's safe to say that lobster bisque, fiddlehead pasta, clam chowder and blueberry pie were also all pillars of my childhood. Fish cakes were something my sister and I always ordered- usually with real New England style home fries on the side with ketchup. Being a restaurant staple, I was also lucky enough that it was easy enough for my grandma to prepare fish cakes for us outside of their cafe. Weekends and holidays spent at grandma's included as much as we could eat.
Fish cakes aren't anything new. In fact, I've heard that they date back thousands of years, though I'm sure the recipes have evolved over the centuries. I've seen many variations. A lot of New England recipes for fish cakes include potatoes, which sounds delicious, although my version does not. Salmon cakes or salmon "burgers" seem quite common outside of New England, and I've dabbled with those a bit. They're delicious, and I may be biased, but not quite as good. Most popular fish cake recipes today are made with cod, but in Maine fish cakes are usually made with haddock.
Fish Cakes with Fresh Haddock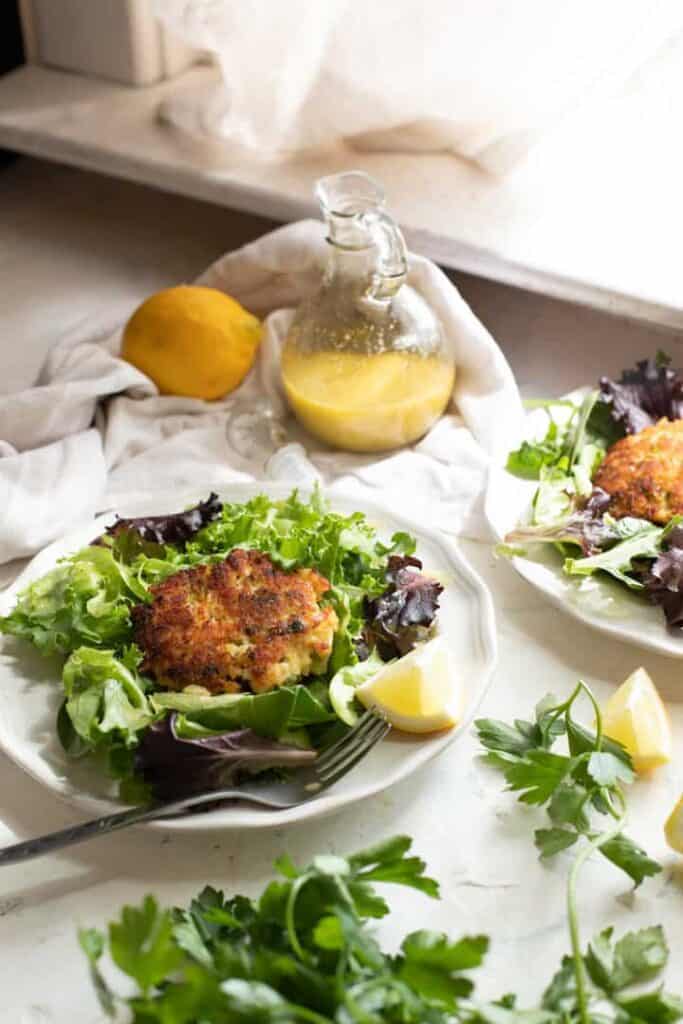 The first time I made these for my kids they were impressed. Roman doesn't discriminate against many foods, so I wasn't surprised when he asked if there was seconds before he'd finished his firsts. Amelia is nit-picky in ways that I can never accurately predict – bits of herbs that are the wrong shade of green, unfamiliar textures, new flavors, etc. It takes her at least five or so introductions to a new food before she starts to warm up to it. Her verdict on these? Delicious, but she prefers them with tartar sauce. I've had a few people ask me how to make fish cakes so writing up a recipe for all to see seemed necessary.
How to Make Fish Cakes
Step 1 Roast the haddock. I roast mine in a cast iron skillet, but any roasting pan will do. Squeeze a lemon evenly over the fish and sprinkle with salt. Cover it loosely with tin foil and roast at 350˚F for about 15 minutes. The fish should flake apart easily with a fork. Set the haddock aside and allow it to cool.

Step 2 While your haddock is roasting, you can begin sauteing your vegetables. In a large pan, melt the butter over medium-low and toss in the onions. Allow them to saute until translucent, about 3-4 minutes. Add the celery and saute for another 5-6 minutes, stirring every so often. Add the heavy cream and allow it to simmer for another 5 minutes, then turn off the heat.

Step 3 Put the fish into a large mixing bowl and flake apart into small-ish pieces with a fork. Add the celery/onion/cream mixture, breadcrumbs, egg, salt, pepper and parsley. Mix well until everything is evenly distributed and a thick mixture comes together. (Store in an airtight container in the fridge for up to 2 days if you're not using it immediately.)

Step 4 To cook, heat oil in a large pan over medium heat. Once it's hot, add a large spoonful of fish cake mixture, using the spoon to flatten it on the top and push it together around the sides to form a thick pancake shape. Cook approximately 5 minutes, then flip and cook another 5 minutes on the opposite side, until golden brown. Continue until you've used up all of them mixture.

Step 5 These are best served immediately.
Tips on how to make fish cakes if you've never made them
Depending on the size of your eggs the fish cake mixture could come out a little too wet or too dry and not hold together well. If this happens it will turn into a mess when you scoop it into the pan to start frying. If your mixture is too dry, I recommend adding a little splash of cream about 1 tablespoon at a time until the mixture holds together well enough to form a cake like shape. If the mixture seems too wet, add 1 tablespoon of breadcrumbs at a time to get that same consistency.
I enjoy these fish cakes over greens with a lemon vinaigrette, but my daughter Amelia enjoys them with tartar sauce and my toddler prefers them with ketchup. My son, Roman is happy to have them with a small bed of greens and just lemon juice.
In this fish cakes recipe I keep it simple and only use parsley, but if you find yourself fresh out you can use dill, chives, or even tarragon.
Amber Rogals- Food Photographer, Food Stylist and Recipe Developer in Maine, New England and Beyond
A bit about me…
Hi! I'm Amber Rogals and I am a food photographer, and recipe developer living and working in Maine. I also serve the New England area and beyond, and write and photograph regularly for my food blog, Downeats. I absolutely love cooking and developing recipes with seasonal foods, and gathering with loved ones to enjoy everything. I grew up on the coast of Maine and pretty much never left. I currently live here in Maine with my (gorgeous, amazing, hardworking) high school sweetheart and our (hilarious, talented and wonderful) three kids. I love capturing shared moments, and inspiring others to cook, eat, gather, and live slow. You can read more about me here. If you are looking for a food photographer, food stylist or recipe developer please contact me here.