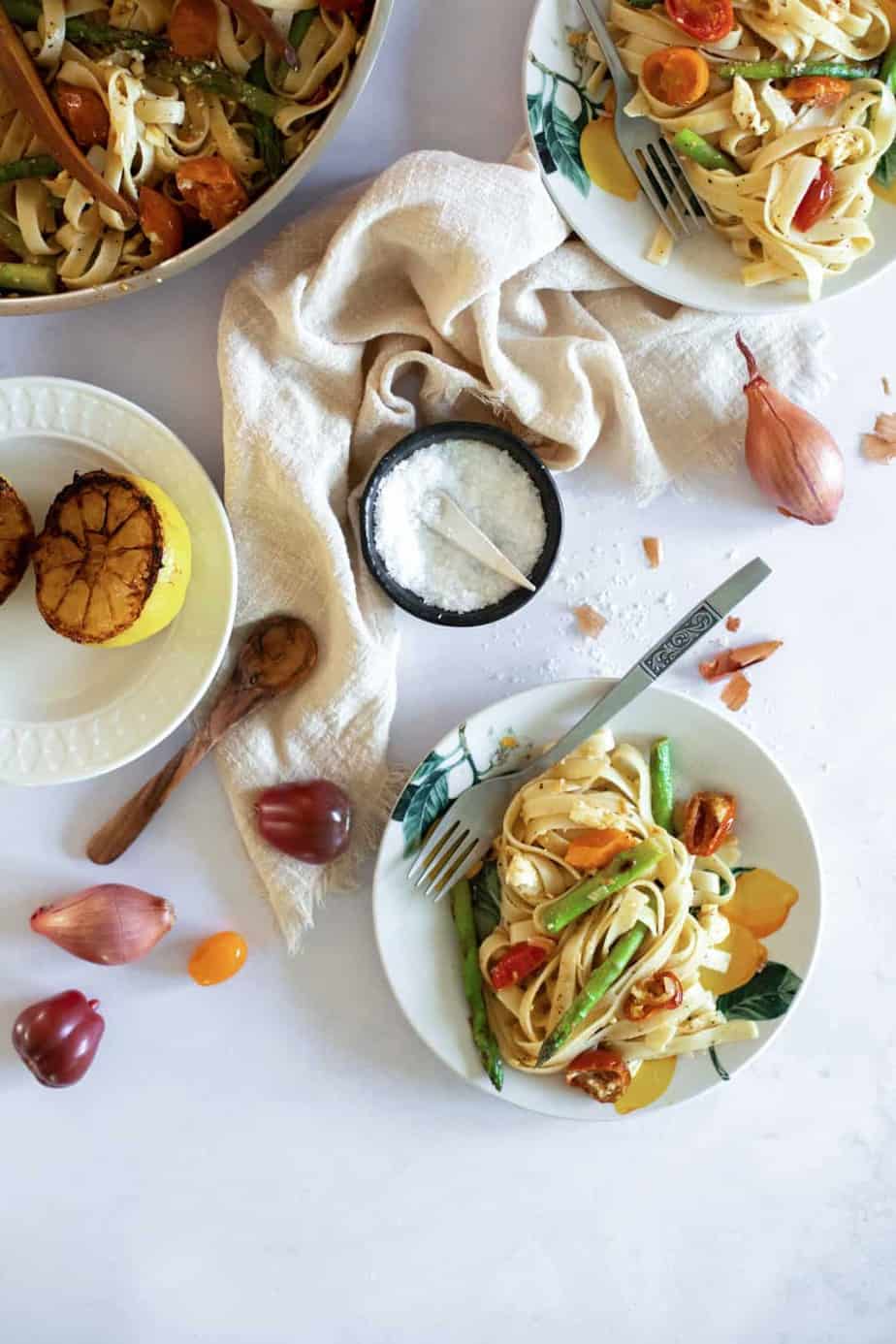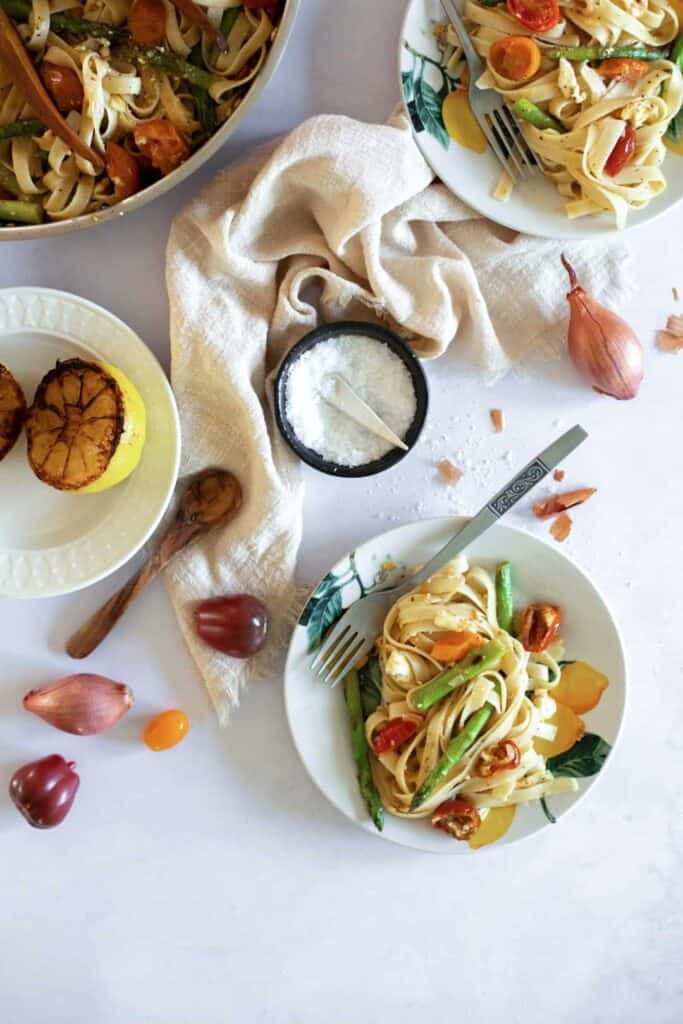 As a mom of (almost) four, I like to keep things simple. In fact, outside of being a mom, I truly think it's become a character trait of mine to value simplicity. Simple doesn't always have to mean plain, boring or mediocre. You can cut fresh asparagus from the garden, and roast it with a little butter and olive oil for 10-15 minutes. Serve them with a squeeze of lemon juice and sea salt and it will be divine. It is as equally simple as it is delicious. If you're ever looking for true New England recipes, go for them simplest of them: steamed lobster with nothing but melted butter. Blueberry pie with a homemade crust. Basic home fries consist of little more than a handful of Maine potatoes, quality olive oil and a sprinkle of sea salt. There is truth and beauty (and much culinary pleasure) in simplicity, if you look for it. I always try to keep a few easy family dinner ideas in my back pocket at all times. This means simple dishes that I can usually throw together on a whim, yet still feel confident that I'm giving my family something healthy and delicious. If the meal can include something that is in season, even better. Here, I'm making a simple pasta with asparagus dish.
Asparagus season is kind of like the Maine kick off into summer. It comes just as the weather is starting to get warm and the daylight really lingers into the late evening. The best New England recipes are often the seasonal ones. Tourists flee here from all over during the summer months to enjoy Maine at its peak; fresh produce and seafood aplenty. In the spring, it's a lot asparagus, rhubarb, radishes and herbs. This is soon followed by even more asparagus, strawberries, and garlic scapes. Tomatoes come when summer is in full swing. By that time Maine is so lush with deliciousness you can find inspiration for a few easy family dinner ideas by simply browsing the Portland Farmers Market on a busy Saturday. Until then, (or in case you can't make the trek to Portland), pasta with asparagus and feta is one of my favorite back-pocket meals:
An Easy Family Dinner Idea? Pasta with asparagus…
This is an easy dish: pasta with asparagus, shallots, tomatoes and feta. You can absolutely substitute shallots with onions if you don't have them on hand or can not get them. You can also blanch the asparagus ahead if want to make things even easier come dinner time.
This is quite an easy dinner to put together, and there aren't too many steps. A few of the steps you can even do ahead of time if it works better for you in managing your day and having to get dinner on the table. This has certainly became a known go-to meal in our house, and has also helped my kids warm up to asparagus (except Amelia, who still only eats one spear of it, though she doesn't think of it as "disgusting" anymore… Progress, I suppose!)
How to Make Pasta with Asparagus, Shallots and Feta
Step 1 Prepare all of your veggies as needed. Peel and chop the shallots. Cut the woody ends (about the thickest 1/3) off of the asparagus. Cut your cherry tomatoes in half.
Step 2 Blanch the asparagus. I know "blanch" sounds like a fancy term, but it's really simple. Boil it for 2-3 minutes, and then quickly strain and immediately set the asparagus in an ice cold bowl of water. This will stop it from overcooking. Once the asparagus has had a few minutes to cool off, take it out of the water and set aside.
Step 3 Set a large pot of water to boil for the pasta, with a generous spoonful of salt. Boil the pasta to al dente. Drizzle it with a little olive oil so it doesn't stick together, then cover and set aside.
Step 4 Pour a few lugs of olive oil into a large pan and set at medium-low heat. Toss in the shallots and allow to cook until opaque- about 3-4 minutes- stirring every minute or so.
Step 4 Add in the tomatoes, and allow them to cook for another 3-4 minutes. They should start to get soft and breakdown a little bit.
Step 5 Add the asparagus and let everything saute together for an additional 2-3 minutes, the olive oil and juices from the tomatoes should start to create a small pool of sauce in the pan.
Step 6 Add the cooked pasta and mix everything together, letting it cook a minute or two longer. As it cooks, squeeze the lemon juice in, sprinkle with sea salt and pepper to taste.
Step 7 Once everything is hot and combined evenly, turn off the stove and mix in the feta, crumbling it up if it's in a large block. Mix well, so the feta is evenly disbursed. Allow the pasta to sit just 1-2 minutes longer to allow the feta to melt or soften as it warms. Then serve!
A Little About Me
Maine food photographer, food stylist, & recipe developer
My name is Amber Rogals! I'm a food photographer, food stylist and recipe developer in Portland, Maine. I also work throughout Maine, and the New England area. I started my food blog, Downeats, as I love to inspire others to cook and enjoy delicious, healthy meals with their loved ones. I grew up and live in Maine with my (gorgeous, amazing, hardworking) high school sweetheart and our (hilarious, talented and wonderful) kiddos. I believe in living slow, enjoying life and love capturing those moments. You can read more about me here. If you are looking for a food photographer, food stylist or recipe developer please contact me here.